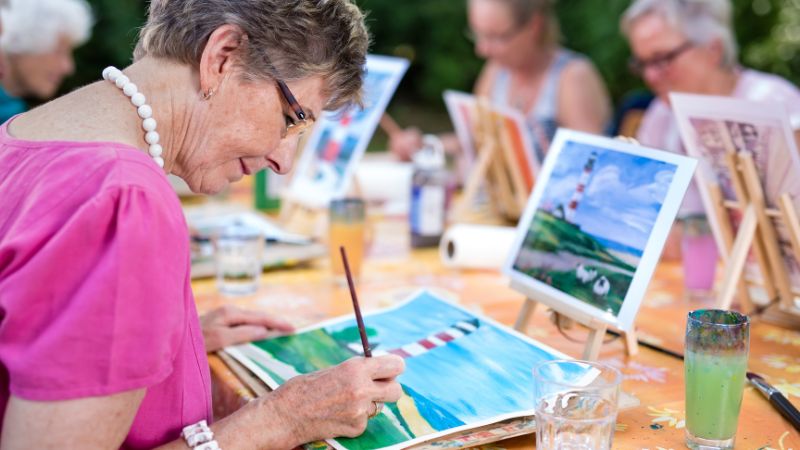 Art Therapy as a Creative Outlet for Mental Health Healing
Welcome to a world where creativity meets healing! In the fast-paced and often chaotic modern society, finding ways to prioritize our mental well-being is crucial. One powerful method that has gained recognition in recent years is art therapy. This dynamic approach harnesses the transformative power of artistic expression to support individuals on their journey towards mental health healing. Whether you're an aspiring artist or simply looking for a creative outlet, art therapy can be a profound tool for self-discovery and emotional growth. So grab your paintbrushes and let's explore how art therapy can unlock new paths to inner peace and resilience!
What is art therapy?
Art therapy is a therapeutic approach that utilizes the creative process of making art to promote healing and growth. Unlike traditional talk therapy, art therapy allows individuals to communicate their thoughts, emotions, and experiences through artistic expression. It taps into the power of visual imagery and symbolism as a means of self-expression.
Through various mediums such as painting, drawing, sculpting, or even collage-making, art therapists encourage clients to explore their feelings and experiences in a non-verbal way. This can be especially beneficial for those who struggle with articulating their emotions verbally or find it difficult to express themselves through words alone.
Art therapy provides a safe and non-judgmental space for individuals to delve into their inner world and gain insights about themselves. The act of creating art can be both cathartic and empowering allowing individuals to release pent-up emotions while also gaining a sense of control over their own narrative.
Engaging in the creative process during art therapy sessions can help individuals gain new perspectives on challenges they may be facing. By visually representing these challenges on paper or canvas, they are able to externalize them from within themselves giving them distance and objectivity for exploration.
Art therapy is not about producing works of "art" in the conventional sense; rather it focuses on the process itself the act of creation becomes an avenue for self-discovery and personal transformation. Whether you consider yourself an artist or not, everyone has the ability to benefit from this unique form of therapy that taps into our innate creativity as human beings.
How can art therapy help with mental health healing?
Art therapy can be a powerful tool in promoting mental health healing. By engaging in the creative process, individuals have an outlet to express their emotions and thoughts that may be difficult to articulate verbally. Through art therapy, people can explore their inner world, discover hidden feelings, and gain insights into themselves.
Creating art allows individuals to tap into their subconscious mind and access parts of themselves that they may not even be aware of. This process can help them uncover unresolved issues or trauma that contribute to their mental health challenges. Art therapy provides a safe space for self-expression without judgment or expectations.
The act of creating art also promotes relaxation and stress reduction. Engaging in a creative activity releases endorphins, which are natural mood-boosting chemicals in the brain. The repetitive motions involved in artistic endeavors such as painting or sculpting can induce a state of calmness and provide a sense of control over one's emotions.
Another benefit of art therapy is its ability to foster self-esteem and self-empowerment. When individuals see tangible evidence of their creativity through their artwork, it boosts their confidence and encourages them to take pride in their accomplishments. This positive reinforcement contributes positively to overall mental well-being.
Moreover, participating in group art therapy sessions offers social support and connection with others who may share similar struggles or experiences. It creates a sense of community where individuals feel understood and accepted without having to explain themselves fully.
Art therapy serves as an effective means for facilitating mental health healing by providing an avenue for self-expression, promoting relaxation, enhancing self-esteem, and fostering social connection.
It empowers individuals on their journey towards emotional well-being and can be an invaluable aid in the healing process.
What are some creative outlet ideas for mental health healing?
Engaging in creative activities can be incredibly therapeutic for those seeking mental health healing. The act of expressing oneself through art allows individuals to tap into their emotions and gain a sense of control over their thoughts and feelings. Here are some creative outlet ideas that you can explore:
Painting and Drawing:
Pick up a paintbrush or pencil and let your imagination run wild on canvas or paper. This form of self-expression can help release pent-up emotions, promote mindfulness, and provide a sense of accomplishment.
Writing and Journaling:
Putting pen to paper is an excellent way to process emotions and clear the mind. Whether it's writing poetry, keeping a personal journal, or even starting a blog, writing allows for introspection and reflection.
Photography:
Grab your camera or smartphone and venture outdoors to capture moments that inspire you. Engaging with nature while practicing photography can be calming, grounding, and uplifting for the spirit.
Music Therapy:
Listening to music has been shown to have numerous mental health benefits; however, actively engaging in creating music takes it one step further. Playing an instrument or singing along releases endorphins that boost mood and reduce stress levels.
Crafting:
Get hands-on with DIY projects like knitting, sewing, or woodworking. These activities require focus while providing a sense of accomplishment when seeing the final product come together.
Remember that finding the right creative outlet is subjective; what works for one person may not work for another! Experiment with different activities until you find what resonates best with you during your mental health healing journey.
How to get started with art therapy
Getting started with art therapy is a simple and accessible way to explore your emotions and promote mental health healing. Here are some steps to help you begin your journey:
Set aside time:
Find a quiet, comfortable space where you can focus on your artwork without distractions. Dedicate regular time for this practice, allowing yourself the opportunity to fully immerse in the process.
Gather supplies:
You don't need fancy or expensive materials to start. Basic art supplies like paper, pencils, paints, and brushes will suffice. Experiment with different mediums and tools as you progress.
Choose a theme or intention:
Determine what you want to express or explore through your art therapy session. It could be a specific emotion, memory, or simply an abstract concept that resonates with you.
Let go of judgment: Remember that art therapy is not about creating something aesthetically pleasing or perfect; it's about self-expression and personal growth. Embrace imperfections and let go of any expectations or judgments.
Explore various techniques:
There are countless ways to engage in art therapy from drawing and painting to collage-making and sculpting. Roam around different styles until you find what feels right for you.
Reflect on your work:
After each session, take some time to reflect on your artwork. Don't try too hard analyzing every detail; instead, focus on how the process made you feel. Taking note of these emotions can provide valuable insights into your mental well-being.
Remember that everyone's artistic journey is unique.
Getting started with art therapy may feel intimidating at first, but trust in the process.
It has been proven beneficial for many individuals seeking emotional healing.
Through creative expression, you have the power to transform pain into beauty, and discover new dimensions of self-awareness along the way.
Conclusion
Art therapy provides a powerful and effective means of healing for individuals struggling with mental health issues. Through the process of creative expression, art therapy allows individuals to explore their emotions, gain self-awareness, and find solace in the act of creation. It offers a safe space for personal exploration and growth.
By engaging in art therapy, individuals can tap into their inner creativity and use it as a vehicle for self-expression and communication. Whether through painting, drawing, sculpting, or other artistic mediums, art therapy allows individuals to externalize their thoughts and feelings in a tangible form.
The benefits of art therapy extend beyond just creating artwork; they also include reducing stress levels, improving self-esteem, enhancing problem-solving skills, promoting emotional resilience, fostering positive coping mechanisms, and cultivating a sense of empowerment.
If you are interested in exploring art therapy as a creative outlet for mental health healing but don't know where to start:
Seek out professional guidance: Find an accredited art therapist who can guide you through the therapeutic process.
Start small: Begin by experimenting with different artistic materials or techniques that resonate with you.
Create without judgment: Remember that there is no right or wrong way to create art ─ focus on the process rather than the end result.
Reflect on your creations: Take some time after each session to reflect on your artwork and any emotions or insights it may evoke.
Practice regularly: Incorporate regular art-making sessions into your routine as part of your ongoing mental health care.
Remember that everyone's journey towards healing is unique; what works for one person may not work for another. If traditional talk therapies haven't resonated with you in the past or if you simply want to explore new avenues of self-discovery and healing,
art therapy may be worth considering.