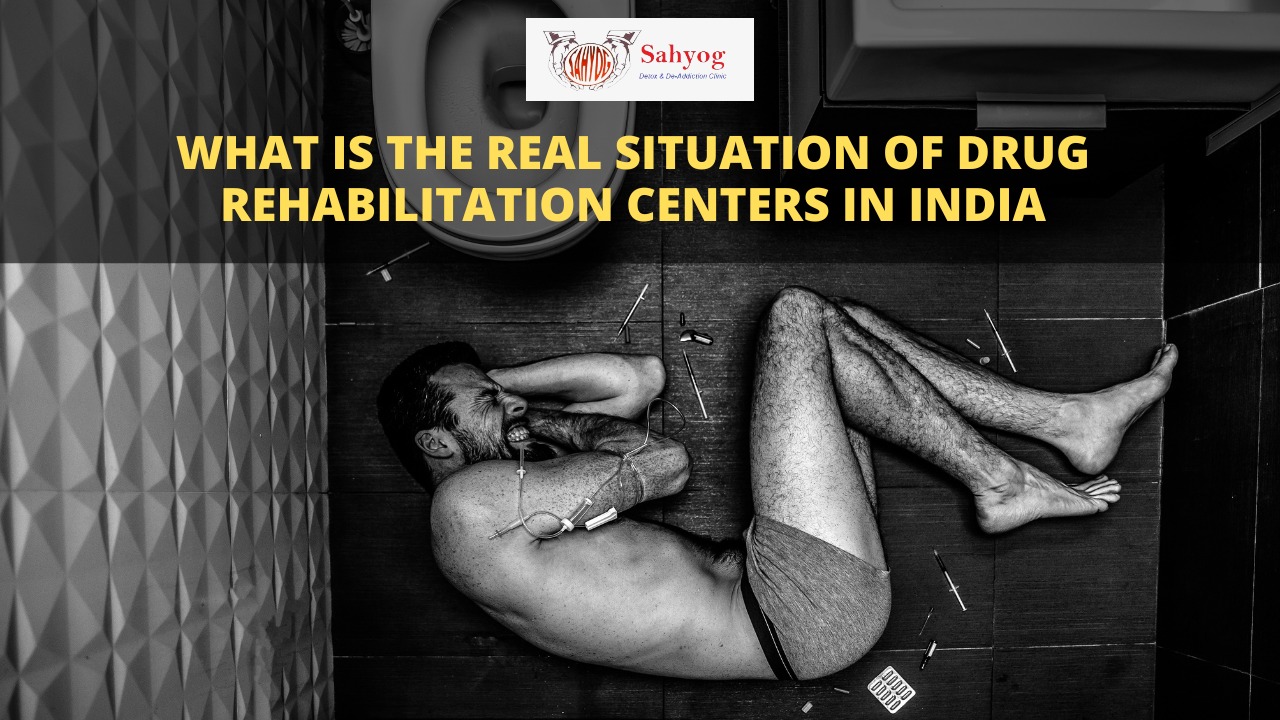 What is The Real Situation of Drug Rehabilitation Centers in India
India has been fighting the menace of drugs for decades now. This fight has taken many forms, from rehabilitation to prevention and awareness raising and so on. Drug rehabilitation centers are one such institution that have taken center stage in this fight against drugs. People from all walks of life go to these rehab because they believe that it can cure them completely. But the question remains whether these rehab actually achieve what they claim to? If you are looking for answers to these questions, you have come to the right place. The answer to your questions can be found in this article. In today's world, the battle against drugs has taken an all-time high, with people of all ages getting addicted to drugs in some form or the other.
The negative impact of drug abuse on individuals and society as a whole cannot be ignored, especially when it comes to rehabilitation of drug addicts and ensuring that they have a second chance at life by staying off the dreaded drug forever. But, how effective are the rehabilitation centers that have cropped up in every nook and corner of India? Are these centers really catering to those who are battling their addiction, or do they charge hefty sums from addicts who want to kick their habit?
How many people are struggling with substance abuse?
In 2014, there were more than 1.2 million heroin users in India, with an estimated 500,000 people suffering from substance abuse related issues such as dependence and addiction. Almost all these individuals are living without access to effective treatment services due to the limited availability of drug rehabilitation centers across, India. The country has only 50 government-approved facilities available for treating substance abuse—and over 90% of them are located in just four states: Maharashtra, Punjab, Tamil Nadu and Kerala. This means that most patients have to travel hundreds of miles for theorizer care.
Many cannot afford it, which can lead to a relapse in their recovery process. It's also worth noting that many patients who do manage to receive treatment fail to complete it successfully due to lack of proper aftercare services or financial support. These factors have contributed significantly towards high rates of relapse among recovering addicts and alcoholics in India. The problem is exacerbated by a general lack of awareness about substance abuse and addiction. This results in many families choosing to handle their loved one's condition on their own rather than seeking professional help—which often leads to serious health complications, personal tragedies and even death.
How many rehab centers are there in India?
Currently, there are more than 2500 rehab centers in all over India. The total number of people undergoing treatment are around 2 lakh. Although, these numbers are not to be ignored since rehab center is not a very common place for treatment, but we can see an improvement and rise gradually. There are many reasons behind it like awareness among people, proper legislation etc. We can expect a better situation in near future as well.
The list of top ten rehab centers in India: There are many private and government run centers across India which provide good quality treatment at affordable cost. But here I am going to share some names which will help you get information about top ten drug rehabilitation centers across India. As per a survey, only few people know that there are so many places available for getting the best treatments for drug abuse problem. Even if someone knows, they don't go to these places because of lack of awareness or myths surrounding it. So, let's start with our first name-
1) National Institute of Mental Health and Neurosciences (NIMHANS), Bangalore. This center was founded by Dr. S. Kasturirangan, who is also known as father of Indian mental health movement. It provides free treatment for all kinds of mental illnesses including substance abuse concerns like alcohol addiction etc.
2) Tata Memorial Hospital & Research Centre, Mumbai This hospital was established by Jamshedpur Tata in 1918 after he lost his son due to cancer disease, and he wanted to do something for cancer patients from then onwards. Now it has become one of the largest multidisciplinary cancer research institute in Asia.
3) Central Drug Research Institute (CDRI), Lucknow CDRI has been working since 1955 to develop new drugs for diseases like tuberculosis, malaria, cholera etc. It is one of the most prestigious institutes involved in research and development of new drugs against deadly diseases.
Is it safe to stay at an Indian rehab center?
Rehab in India isn't as safe as they claim to be. Some centers take advantage of their patients, misdiagnose them, or ask for ridiculous sums of money. So, before you decide to give up your life and stick yourself into one of these supposed drug rehabilitation centers, make sure you do your research! That's what we've done—for you. Today, we will answer questions such as: How safe is Indian rehab? What kinds of treatments do they offer? Are they effective? And how much does it cost to stay at an Indian rehab center?
We hope that our findings help you make a more informed decision about whether an Indian rehab center is right for you. If not, then we hope that our findings help someone else who might need it. We believe that information should be free. Share it with others if you find value in it. Kindly let us know if there's anything else you want us to cover by leaving a comment below! Now let's get started…
We asked around and came up with these commonalities between most (if not all) Indian rehabilitation centers: First, they all seem to be private centers—there don't seem to be any government-funded facilities. The number of clients each facility can handle also seems to vary wildly; some claim they can handle 20 clients while others boast 100+ beds. Some even have luxury rooms for those who can afford it. Second, their treatment methods are varied and range from traditional talk therapy to yoga or meditation sessions. Some also offer alternative treatments such as hypnosis or acupuncture. Third, their prices are all over the place—from ₹1 lakhs per month to ₹25 lakhs per month!
What are your chances of success after completing treatment?
After completing treatment, chances of success depend on a variety of factors. How long have you been using? What substances are you addicted to? Have you previously undergone treatment and relapsed? The more time that passes between your last use and completion of rehab, and the fewer drugs you were taking at that time, your chances for success are generally higher. Ultimately, though, aftercare can help make sure patients stay clean.
It's common for people who go through treatment to fall back into old habits if they don't receive support after leaving rehab. This is why it's important to seek help from friends and family or other community resources like Alcoholics Anonymous (AA) or Narcotics Anonymous (NA). These groups offer mutual-support programs where members share their experiences with addiction and recovery. They also provide advice on how to avoid relapse. People who attend these meetings regularly are much less likely to return to substance abuse than those who do not. These groups also provide opportunities for addicts to help others going through similar struggles, which helps keep them accountable during recovery.
Conclusion
There are so many types of drug abuse treatment centers in India. Our country has been successful to identify people who are addicted to drugs and other poisonous substances. There have been too many celebrities who were used by such centers because they have got addicted on different kinds of drugs. There are a lot of drug rehabilitation centers available across all over India to treat patients suffering from different kinds of substance abuse problems. But it is really hard for them to find out an appropriate treatment center that will help them get rid of their addiction.
So, it's critical for us to know about these facilities before we can decide which one would be best for our loved ones or friends who are suffering from any kind of addiction issue. It's difficult to give up drugs, but with proper guidance and support from your family members, you can do it. This is why it is important for you to choose a good facility among all the rehabilitation centers if you want your loved ones to recover soon from drugs and addictions. You need to consider some factors while deciding a right facility like its location, cost, availability of experienced doctors, etc. The services provided by these places vary depending on their specialization as well as size of patient population they serve at any given time. That's why it is always better to opt for a big hospital rather than small ones. Big hospitals usually have more staff and better infrastructure than smaller ones.
In addition, bigger institutions also have more experience in treating patients with different kinds of addiction problems including alcohol dependence syndrome, opiate dependence syndrome etc. Many people don't realize that not all drug abuse treatment centers for rehabilitation offer similar level of care; there are various levels of service provided by these facilities based on various factors like budget constraints and specializations among others.