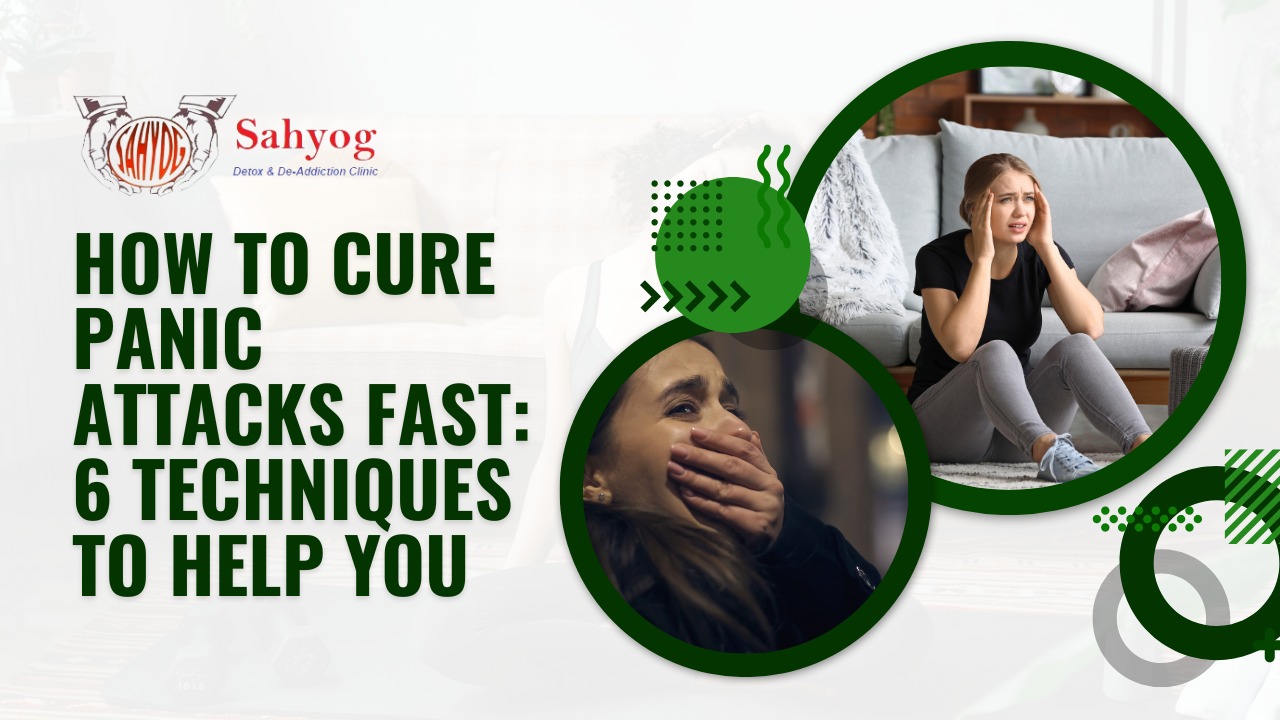 How to cure panic attacks fast: 6 techniques to help you
Millions of individuals throughout the world suffer from panic attacks, a prevalent mental health disorder. It might be due to stress, trauma, or even a medical issue. An individual may be unable to function normally because of panic episodes, which can be quite crippling. Therefore, learning how to manage panic attacks quickly and efficiently is crucial for reducing related symptoms and improving quality of life.
I'll go through six techniques for controlling anxiety and restoring your freedom in this article. We will give a quick summary of panic attacks in this post, including what they are, how to recognize them, and their potential causes. The six methods—deep breathing exercises, mindfulness meditation, progressive muscle relaxation, cognitive-behavioral therapy (CBT), medicine, and herbal supplements—that have been proven to be successful in minimizing panic episodes will next be discussed. It will also cover how to avoid coffee and alcohol, keep up a regular exercise schedule, and communicate with loved ones as other coping mechanisms for panic attacks.
It's crucial to keep in mind that not everyone will benefit from these panic attack management techniques. You ought to seek the advice of a mental health professional if your panic attacks are severe or persistent. Let's begin with the quick-acting treatments for panic attacks now.
Understanding Panic Attacks
The abrupt onset of extreme dread or discomfort known as a panic attack can be crippling and disruptive to daily life. Although they frequently last a few minutes, they may linger for up to an hour. Attacks of panic can happen even when there is no real threat around because they are frequently unpredictable. Numerous things, including stress, traumatic events, and specific medical problems, might cause them.
Individuals might have different panic attack symptoms, but some frequent ones include shaking, sweating, heart palpitations, tightness in the chest, shortness of breath, dizziness, and thoughts of impending doom or lack of control. During a panic attack, some people may also suffer stomach discomfort, nausea, chills, or hot flashes.
Because some of the symptoms are similar to those of other medical disorders, such as heart attacks or asthma attacks, panic attacks can occasionally be misdiagnosed. Therefore, if you are feeling any of these symptoms, especially if you have never had a panic attack before, you must get medical help right once.
Panic attack causes:
Although the precise origins of panic attacks are not entirely known, research indicates that a mix of genetic, environmental, and psychological variables may be to blame. The following are some typical causes of panic attacks:
Stress:

Some people get panic attacks as a result of high amounts of stress.

Traumatic events:

Panic attacks can result after experiencing a traumatic incident, such as a vehicle accident or physical assault.

Medical diseases:

Thyroid issues, heart illness, and respiratory issues are just a few of the factors that might make you more likely to experience panic attacks.

Substance abuse:

Alcohol and drug abuse can trigger panic attacks.

Genetics:

There may be a genetic component to panic attacks, as they tend to run in families.
A panic attack's symptoms:
An incident of panic is recognized by its abrupt onset and severe symptoms. Panic attack symptoms may be physical, emotional, or a combination of both. The following are a few typical signs of panic attacks:
Rapid heartbeat or palpitations

Sweating

Shaking or trembling

Shortness of breath or hyperventilation

Chest pain or discomfort

Nausea or stomach pain

Dizziness or lightheadedness

Fear of losing control or going crazy

Fear of dying

Hot or cold flashes
How to Quickly Treat Panic Attacks:
Even though there is no one treatment for panic attacks, there are several methods that can help control the symptoms and lessen both the frequency and the severity of attacks. Here are six methods for treating panic attacks quickly:
Deep breathing exercises: Deep breathing exercises are one of the easiest and most efficient techniques to treat panic episodes. To relax the body and mind with this method, take a few slow, deep breaths while concentrating on your breathing.
Mindfulness meditation: Focusing on the present moment and accepting it without judgment is a key component of the mindfulness meditation technique. Regular mindfulness meditation practice helps ease anxiety and stress while also enhancing general well-being.
Progressive muscle relaxation: To alleviate physical tension and encourage relaxation, progressive muscle relaxation includes tensing and relaxing various muscle groups in the body. This method can enhance sleep quality while lowering stress and anxiety.
Cognitive-behavioral therapy (CBT): Cognitive-behavioral therapy (CBT) is a form of therapy that focuses on altering unfavorable attitudes and conduct that underlie anxiety and panic episodes. CBT can help in identifying triggers and developing coping techniques to regulate panic attacks.
Medication: In some cases, prescribing medication to treat panic attack symptoms is advised. Pharmacies like beta-blockers, antidepressants, and anxiety medications may be suggested.
Supplements made from herbs: Some herbal remedies, including chamomile, valerian root, and passionflower, may promote a more tranquil state of mind. Before ingesting any herbal supplements, it's crucial to see a doctor because they might combine negatively with other prescriptions or have unfavorable side effects.
Additional Advice on Surviving Panic Attacks:
You may manage panic attacks by following some extra advice in addition to the approaches mentioned above, such as:
Avoid alcohol and coffee since they can cause panic attacks.

Regular exercise is important since it can help lower stress and anxiety.

Getting enough sleep, as not getting enough sleep might lead to panic episodes.

You may feel less stressed and anxious if you ask loved ones for help.

Caring for oneself in ways that help one unwind, such as by taking a warm bath or listening to soothing music.
Keep in mind that while these methods have shown promise in helping people experience fewer panic episodes, they are not appropriate for everyone. You should see a mental health professional to figure out how to effectively address your specific situation. With the right care and support, you may learn to manage your anxiety and improve your overall health.
Additional Advice on Handling Panic Attacks:
Additional advice can help you manage panic attacks in addition to the methods already mentioned:
Object to your thinking: It's common for negative or unreasonable ideas to start panic episodes. Asking yourself "Is this thought based on facts or assumptions?" might help you challenge these ideas. same, "What evidence backs up this claim?" This can assist you in seeing the issue more clearly and lessen the severity of your panic attacks.
Practice relaxation methods: You can treat panic attacks by using relaxation methods in addition to deep breathing exercises and gradual muscular relaxation. You may, for instance, try visualization, where you picture a tranquil setting or circumstance to unwind.
Talk to yourself kindly: During a panic attack, positive self-talk might make you feel more secure and in control. Instead of telling yourself, "I can't handle this," try telling yourself, "I can handle this, and it will pass soon." You may reframe your thinking and lessen the severity of your panic symptoms by using positive affirmations.
Avoid avoidance: While it may seem like a good idea to stay away from circumstances that cause panic attacks in the short term, doing so might make the problem worse in the long run. Avoidance can increase your dread and anxiety over time by reinforcing the idea that the situation is hazardous. Instead, with the assistance of a mental health expert, attempt to progressively expose yourself to the circumstances that cause panic attacks.
Create a support system: Having a network of loved ones and friends who are there for you may go a long way in helping you manage panic attacks. Reach out to those you care about and tell them your story. Consider joining a support group or seeking professional help to find others who can relate to your situation.
Conclusion:
In the end, having a panic episode may be unpleasant and even disabling. There are several strategies and pieces of advice that may be used to control the symptoms and lessen the severity and frequency of episodes. There are several ways to manage panic attacks, ranging from cognitive-behavioral therapy and medicine to deep breathing exercises and mindfulness meditation.
It's crucial to collaborate with a mental health expert to create a customized treatment plan that fits your unique needs and goals since what works for one person may not work for another. It is possible to overcome panic episodes and enhance your general well-being with the appropriate care and assistance. Therefore, if you're having panic attacks, don't be afraid to get assistance and treatment since you're not alone and there's a chance for recovery.   
Frequently Asked Questions (FAQs)
1. Describe a panic attack in your own terms.
A panic attack is an abrupt start of extreme dread or discomfort that can last for many minutes. Sweating, heart palpitations, and difficulty breathing are all common physical manifestations.
2. What common causes are there for panic attacks?
Anxiety attacks have unclear aetiologies, but researchers suspect a combination of genetic, environmental, and psychological factors.
3. Are panic attacks treated?
Although there is no known cure for panic attacks, they can be controlled and treated with strategies including psychotherapy, medication, and behavioral changes.
4. What methods have shown to be the most well-liked for treating panic attacks?
Medication, cognitive behavioral therapy, exposure therapy, mindfulness meditation, deep breathing exercises, and progressive muscle relaxation are all common treatments for panic attacks.
5. How might deep breathing exercises benefit those who are having panic attacks?
Deep breathing can help reduce the physical manifestations of panic episodes by increasing the body's oxygen supply and calming the neurological system.
6. How does the anxiety-relieving practice of gradual muscle relaxation work?
Tensing and then relaxing different sets of muscles is at the heart of a method known as progressive muscle relaxation. It can reduce the severity of panic attacks by reducing muscular tension and promoting relaxation.
7. How may mindfulness-based stress reduction help with panic disorder?
The objective of mindfulness meditation is to bring one's attention to the here and now while accepting one's feelings and thoughts about that moment without judgment. Panic attacks may be avoided if stress and anxiety are reduced.
8. When it comes to treating panic attacks, how exactly does cognitive-behavioral therapy (CBT) function?
The fundamental aims of CBT, a type of treatment, are changes in negative thought patterns and behavior that feed anxiety and panic attacks. It can help you feel calmer and keep panic episodes at bay.
9. When it comes to treating panic attacks, how exactly does exposure therapy work?
Exposure therapy is gradually exposing a patient to situations or objects that they fear in a safe and controlled environment. It can help reduce anxiety and desensitize the person to things that could otherwise set off an episode.
10. What medications are typically recommended for treating panic attacks?
Common medications used to treat panic attacks include antidepressants, anxiety medications, and beta-blockers.
11. Can one alleviate panic episodes by making lifestyle changes?
Reducing anxiety and preventing panic attacks is possible via lifestyle changes such as increasing physical activity, eating healthier, learning to deal with stress, and giving up alcoholic beverages and caffeine.